Wiring a ceiling fan seems like it should be simple. There are only a few wires going to a switch box and then to the fan, right?

Surprise! If you have ever tried to wire a ceiling fan, you know that it can get complex and complicated. But the reality of it is that the wiring of fans with lights isn't as complex as most people think.
Unlike other home improvements, such as adding a light fixture, many factors must be considered before the job is done. That's why we've created this guide on how to connect and wire a fan.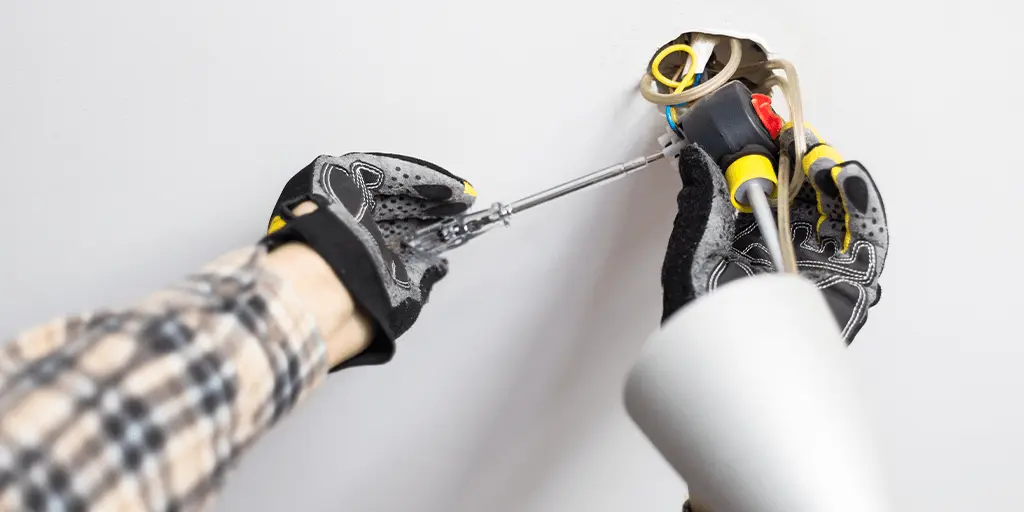 Follow These 6 Steps to Wire a Ceiling Fan
Caution!
Do not attempt to do electricity tasks yourself if you are not a DIY person. Instead, find a professional electrician who can do this for you. That way, you won't have to worry about damage to your appliance!
Step 1: Turn Off Power and Shut Off Breaker
Before you start wiring your ceiling fan, make sure you shut off the power to that outlet.

This is common sense, but it's always worth repeating. Do not work on electrical circuits when there is any chance of a shock or electrocution.

The easiest way to make sure that the power is off is by turning off the circuit breaker serving that outlet or circuit. This way, you won't have any doubt about whether or not your work will result in an accidental shock.
Step 2: Remove the Old Light Fixture
Now remove the old light fixture. First, unscrew the mounting screws that hold it in place. If you're having trouble getting them out, use a screwdriver with a magnetic tip.

Then, remove the canopy cover to reveal the light fixture wires and disconnect them from their places inside the electrical box.

Next, pull on each wire gently until it detaches from its respective screw terminal and set aside your old fixture for safekeeping (if possible).

Finally, take out your new ceiling fan/light kit and install it as directed by the manufacturer's instructions
Step 3: Remove the Old Electrical Box
In order to remove the electrical box, you will need to cut the edges with a keyhole saw or hacksaw. If you don't have either of these two tools, use a hammer to loosen it.

You may be able to pull off the cover with your hands, but this can cause damage and is not recommended!
Step 4: Install the Ceiling Fan Brace Box
Now it is time to install your ceiling fan brace box. This is a metal box that comes with your fan and needs to be mounted in the ceiling joists above where you plan on installing the new light fixture.

The first thing you will want to do is locate the studs in your ceiling so that you can mark them with a pencil or pen. Then use those marks as a guide when mounting your brace box on top of them.

Once it has been mounted securely, connect up all of its wires and secure it down by screwing each side into place using some brackets or screws included in the package with your new light fixture.

Next, attach all four wires (black, white) from both ends together inside this new electrical box.

Before securing it permanently into place, screw through the pre-drilled holes found at each corner of the metal frame structure onto either side where they meet up with corresponding edges from wood joists directly below.

These two intersects meet together like puzzle pieces forming one larger piece instead!
Step 5: Wire the Fan
Now that you have wired your ceiling fan, it is time to attach the wires to their respective connections on the fan.

The green wire should be attached to a ground wire connection (usually located at one of the mounting brackets) with a green wire nut.

If they do not have a ground wire connection, simply attach them under one of the screws holding down the wires and secure them with electrical tape.

The black wire goes in between two terminals on each side of the fan motor so that when you turn on your switch. There is power going through all three phases while being split apart by two-thirds.
The white and red wires must be connected together using a white wire nut. Then, they must be attached under one of the mounting screw holes as well as around any other available screw hole or slot hole.

This is necessary in order for them not to fall out during operation or maintenance work later down the road once installed properly per the manufacturer's instructions included with the purchase materials package contents list shown earlier).

In some ceiling fans, a fifth blue wire is sometimes used to control light kits. We have explained the purpose of the blue wire on ceiling fans. Check out the article for more information.
Step 6: Hang the Fan and Connect the Wires
Now it's time to connect the wires to the fan. There should be three wires: black, white, and green (or bare copper).

The black wire is most likely going to be attached directly to a live wire from the power source. If there is no existing neutral wire, you will have to add one by using an additional length of 14/2 cable for this step.

Connect all three wires together using a wire connector or twist them tightly onto each other with pliers until they make contact and become hot!

Be sure not to mix up any of these wires; if your fan doesn't work right away check that everything is connected properly. Now turn on your power source and test out your new fan!
Some Additional Tips to Wire a Ceiling Fan
Tip!
Ensure before getting into the process that no supply of electricity is active for the fan. Turn off the power to the fan and make sure it is not just in a "standby" mode before starting the wiring process.
Important!
Only use UL-listed extension cords for wiring ceiling fans—anything else could be dangerous!
TL;DR: Follow these steps to safely wire your ceiling fan at home
Turn off the power and shut off your breaker to the room where you will be working.

Remove any existing light fixture, then remove the old electrical box from the ceiling by unscrewing it and pulling it out of its junction box. This will expose bare wires, which you must now disconnect before continuing with this project.

Install a brace box around each length of electric cable that comes down from your fan's motor, using self-tapping screws or wire connectors (or both). Be sure to keep track of which wire goes where!

Strip away about 3/4″ (1 1/2 cm) of insulation from both ends of each wire coming out of these boxes before making connections inside them; this is necessary so they'll still fit into place once everything is back together again later on tonight's date night with Netflix & Chill (or whatever it is that young people do nowadays).

Attach black wire connectors onto all three hot leads from steps 2 & 3 above. One black connector will go onto each side that has no white stripe on its insulation; another black connector should go onto one side with no yellow stripe present at all. This color indicates ground potential here so don't mix up those two types when installing either type!
Read: How To Wire A Ceiling Fan Without Existing Wiring [Step By Step Guide]
Also Read: How To Troubleshoot A Ceiling Fan
Check out this video tutorial for wiring a ceiling fan from HomeDepot.
Looking To Buy A Ceiling Fan? Read Our Guide:

FAQs – Get more safest solutions!
How do you wire a ceiling fan with 3 wires?
Wiring a ceiling fan with 3 wires is quite easy especially if you are using a household circuit.

To wire a fan with 3 wires, start by turning off the breaker that controls your home's electricity. With the breaker off you can begin to install the ceiling fan with ease. The black wire leads to the switch which is the hot wire. This is connected to the white wire which acts as a neutral.

In order to keep the fan from experiencing power surges, the copper or green wire is the ground wire.
What wiring is needed for the ceiling fan?
Successful installation of ceiling fans or adjustable wall switches involves calculating the length of wire needed to connect the device to the breaker box.

It's best to hire a licensed electrician for this job since it calls for cutting into existing wires and potentially dealing with electrical problems, but if you are up for the task, follow the above guide!
---
Conclusion
This visual resource can be used by handy homeowners who want to install a new ceiling fan.

Many people attempt to wire this type of light fixture on their own, so it is highly recommended that homeowners learn proper wiring techniques.

Having the tools and knowledge on how to wire a ceiling fan will prevent injuries and mess in a home's ceiling.
---