Our Top 3 Picks!
Not to deny! Are you tired of sweating bullets while working on your car in the garage during the summer? Or feeling like you're stuck in a sauna while trying to store your tools and equipment?
Well, have no fear, because we've got the hookup for you!
We've scoured the market and put together a list of the best rated ceiling fans for your garage!
That's right, no more hot and heavy work sessions for you.
These fans have been purchased and experienced mostly by customers and will keep you cool by making your garage feel like a breath of fresh air.
But before you go running to the store, hold your horses! We've also included a simple and handy buying guide so you can make sure you're getting the perfect fan for your specific garage needs.
So grab a cold one, sit back, and get ready to upgrade your garage game with our selection of some amazing quality garage fans.
Quick Comparison
Reviewing Our Picks
Modern Forms Wynd Smart Ceiling Fan Review
If you're looking for the perfect fan for your garage, look no further than the Wynd Smart Indoor and Outdoor 5-Blade Ceiling Fan.

It's worth every penny because it's packed with all the smart features, such as compatibility with Google Assistant, Alexa, and more, that make it a real winner.

Not only is it easy to install and has awesome customer service from the manufacturer, but it also works with wall switches, iPhone apps, and Ecobee!

Plus, its DC motors are incredibly efficient and silent. In fact, they are 70% more efficient than traditional fans, so you'll never have to worry about your fan wobbling, rattling, or clicking ever again.
What makes It the Winner?
The Wynd Smart Ceiling Fan is an excellent choice for garages because it has a wet location listed, making it suitable for both indoor and outdoor use. This makes the fan incredibly versatile and adds convenience, as one purchase can serve multiple purposes.
Why Do We Recommend It?
Hunter Kennicott 44″ Ceiling Fan Review
This Hunter Kennicott 44-inch fan is a real game changer for small garages like those many of us have for one-car stands. It is a modern and clean-looking addition to any garage, and it packs a lot of punch.
The ultra-powerful Whisper Wind motor delivers smooth, quiet operation that won't disrupt your projects or conversations.
What did we like best about this fan?
The thing that makes this fan especially great is that you can easily switch between downdraft and updraft mode depending on the season. You won't get any better performance with its exclusive SureSpeed feature, which delivers an amino-optimized high-velocity airflow.

Whether you opt for the 48″ or 54″ model based on your garage size, you won't be disappointed.
Why Do We Recommend It?
Hunter Builder Elite 52″ Ceiling Fan Review
If you're after a fan that not only looks great but is also super powerful and efficient, then the Hunter Builder Elite Versatile 52 Inch Indoor/Outdoor Ceiling Fan is definitely worth considering!
Made from metal, this fan can survive transportation hazards without a scratch and looks stunning in any small garage setup. Then too, its whisper-quiet operation means you won't be disturbed by any loud noises.
The best part to know about this fan?
It has a multi-speed reversible fan motor. That means you can adjust the speed and direction of the fan to your liking. Plus, the Whisper Wind motor is ultra-powerful without making a racket.
Not just that, but it's also damp-rated, which means it's safe to use in covered porches, patios, sunrooms, and even bedrooms.
So, if you want to keep your home interior inspired, this fan is a no-brainer!
Why Do We Recommend It?
Ciata Lighting 56″ Garage Ceiling Fan Review
Now if we increase the size of the garage a little bit (like for 2 car standing areas such as residential and industrial garages), the Ciata Lighting Garage Ceiling Fan is the way to go.
But, let's get down to the nitty-gritty. This fan is manufactured to last, with a durable metal construction and three blades that can cool down even the stuffiest of garages. And, with a 60-watt motor and 6045 CFM, it's got some serious power behind it. Plus, with four-speed settings, you can adjust the airflow to your liking.
The best thing we found?
One of the best features of the Ciata Lighting Garage Fan is its durability at an extremely affordable price. Also, it comes with a strong metal construction and three blades that can withstand heavy use.
So, even if you're constantly running the fan in your garage, you can trust that it won't break down on you after a few months. You know, like some cheapo fans do.
Now, we know some of you might be worried about safety. Don't worry!
This fan is ETL listed, so it's up to snuff with all the safety standards. But it's only meant for indoor use, so if your garage isn't properly closed off, this isn't the fan for you.
Why Do We Recommend It?
Honeywell 51473-01 Xerxes 62″ Ceiling Fan Review
The feature that makes Honeywell 51473-01 Xerxes Ceiling Fan a solid choice for any medium-sized garage is its plenty of power and its easy-to-control motor, so it's gonna keep you cool and comfortable while you're working on your latest project. Also, it's got an eight blades wide and sleek design that's going to look great in any garage space.
And the best part?
Along with the convenient remote control, the fan is very energy efficient. With just 18 watts of power consumption, this fan can save a lot on electricity bills every year! Moreover, its LED light is quite bright and can light up the whole garage.
But, let us tell you, the real test of a fan is how it performs. And we gotta say, this fan passed with flying colors.
It's dead silent, even on the high-speed setting. And the medium speed setting is perfect for an air-conditioned room. But if it's not air-conditioned, you'll definitely want to bump it up to high.
And honestly, according to customers, they haven't found a use for the low-speed setting. But, that's just a few of them.
Why Do We Recommend It?
Big Air 72″ Industrial Ceiling Fan Review
The Big Air 72 Inch Industrial Indoor/Outdoor Ceiling Fan is a beast of a fan, perfect for those big garages that can fit three cars.
The fan is made of aluminum and comes in three different sizes, 72″, 84″, and 96″. You'll find nine blades that are designed for high-volume air movement, so it'll keep your garage feeling fresh even on the hottest summer days.
And the best about this product?
The Big Air fan has a DC motor, which is a fancy way of saying it uses less energy. And not just a little less, it's ENERGY STAR certified, which means it's up to 65% more efficient than traditional AC fan motors. That's a pretty big deal if you ask me. It means you'll save some money on your heating and cooling bills, which is always a good thing.
And, on top of that, it's reversible. So, you can change the direction of the blades depending on the season.
In the summer, you can have it blowing down to keep you cool, and in the winter, you can have it blowing up to circulate the warm air. It's like having two fans in one, which is pretty cool!
Why Do We Recommend It?
Westinghouse Lighting 7224900 100″ Ceiling Fan Review
So here's about this big version of a fan – the Westinghouse Lighting 7224900 Wide Span Industrial Ceiling Fan, that is industrial style, and it's perfect for a big ol' garage like many small agencies and big homes have that can fit three cars.
The fan is a high volume, low speed (HVLS) ceiling fan, which means it effectively and efficiently distributes air.

It also has a high-quality DC motor that delivers premium air movement and quiet performance. Not only that, but you will have a reverse function for summer/winter operations, which is a lifesaver in the garage.
Now, what makes them excellent?
In customers' opinions who have used it, the excellent part of this fan is definitely its 100-inch size. It talks about a statement piece—this fan is not messing around. It's like a giant, industrial propeller in your garage.
And let us tell you, the size really does make a difference when it comes to performance. Because it's so big, it can really distribute air efficiently and effectively.
Those who've had it up for a few weeks now can already feel the difference in temperature in their garage. It's like it's constantly blowing a breeze around.
Why Do We Recommend It?
Minka-Aire F896-65-CL Xtreme Ceiling Fan Review
The Minka-Aire F896-65-CL Xtreme Outdoor Ceiling Fan is the perfect choice for your outdoor garage. From its superior wet rating to its multi-speed remote, this fan offers everything you need for a reliable and efficient cooling experience.
What makes It the Winner?
This fan holds up in even the harshest conditions, withstanding winds up to 100 miles per hour during Hurricane Ian and never missing a beat. And, have no worries about handling wet weather or sprinklers – this fan easily keeps it cool (pun intended!) when things heat up outside.
Also, it comes with a customizable light kit available for separate purchases that illuminates brightly, ensuring your outdoor oasis stays bright all summer long!
So don't sweat it – this fan has got you covered, rain or shine. Plus, it does all this without sacrificing quality or overwhelming noise levels.
Why Do We Recommend It?
Westinghouse Lighting 7861400 56″ Ceiling Fan Review
The Westinghouse Lighting 7861400 Industrial Ceiling Fan is the perfect choice if you are looking for an affordable yet high-quality fan for your garage.
This fan has all the features you could want in a ceiling fan, from a ball hanger installation system and five-speed wall control to its 78-inch lead wire and 12-inch length by 1/2-inch diameter down rod.
The alloy steel construction makes it strong and durable, while at only 14.5 pounds, it's light enough to be safely mounted in any space.
And with 60 watts of wattage and 5972 CFM, this fan will keep your workspace cool no matter how hot it gets outside. Since it has an elegant industrial look, it'll look great doing it!
But the best part about this fan is?
You don't have to sacrifice quality for price. Sure, people may try to tell you "you get what you pay for" but that doesn't apply here – because this is the best cheap industrial fan on the market.
So don't settle for anything less – save yourself some money and go with Westinghouse Lighting 7861400!
Why Do We Recommend It?
Air King 9718 18″ Ceiling Mount Fan Review
Have you been looking for an industrial-grade fan to help cool down that hot garage of yours?
Then the Air King 9718 Industrial Grade Ceiling Mount Fan is just what you need!
This beast of a fan boasts powerful speeds, a pull cord switch, and a pivoting fan head – perfect for moving air around large spaces. And with its powder-coated steel construction, it can handle whatever heat comes its way.
What makes it attractive in its type?
This fan's 1/6 horsepower motor is fully enclosed and permanently lubricated, so you don't have to worry about any messy cleanups or maintenance. And with an output of 8780 CFM, it's sure to keep your space cool no matter how hot things get.
If anything happens within the first year, rest easy knowing that this fan comes with a one-year limited warranty.
Why Do We Recommend It?
What To Look In Before Selecting Garage Ceiling Fans? – [Buyers Guide]
Know the size of your garage first!
When it comes to finding the best ceiling fan for your garage, the first thing you've got to do is make sure you're getting the right size. You don't want to end up with a fan that's too big or too small, because that's just a recipe for disaster.
Now, when we say "size," we're talking about the blade span. This is the distance from the tip of one blade to the tip of the opposite blade. The bigger the blade span, the more coverage the fan will have.
So, how do you figure out what size you need?
Well, it's pretty simple. You just measure the length and width of your garage and then add those numbers together.
Here's a helpful guide to help you select the correct size for your space:
Now, remember that bigger isn't always better.
If you've got a really small garage, a huge fan might look out of place and just be overkill. So, use your common sense and go with a size that makes sense for the space.
Here's more information regarding fan size for a reliable purchase!
Understand CFM: How much air your fan can move in garage
The next thing you should look at is the CFM, or cubic feet per minute. The size of your garage plays a big role in how much air needs to be moved to cool it down.
"A bigger garage needs a more powerful fan with a higher CFM."
Here's a quick rundown of each CFM level and what type of space it's best suited for with examples:
Find out more about the CFM of ceiling fans here!
Which style do you need for wide and small garages?
Do you want something modern and sleek or more traditional and rustic? A statement piece with a lot of bling or something subtle that won't distract from the decor?
Luckily, there are tons of options to choose from. Here's a quick breakdown of each type to help you pick one that best suits your needs:
These are some common types of ceiling fans.
Your garage needs both (winter & summer) seasons' maintenance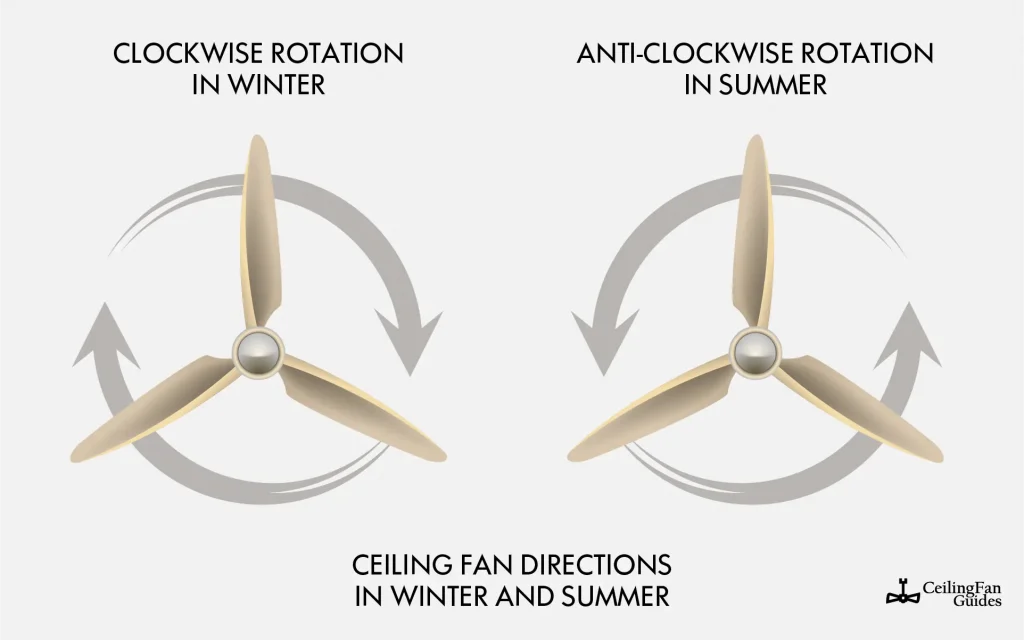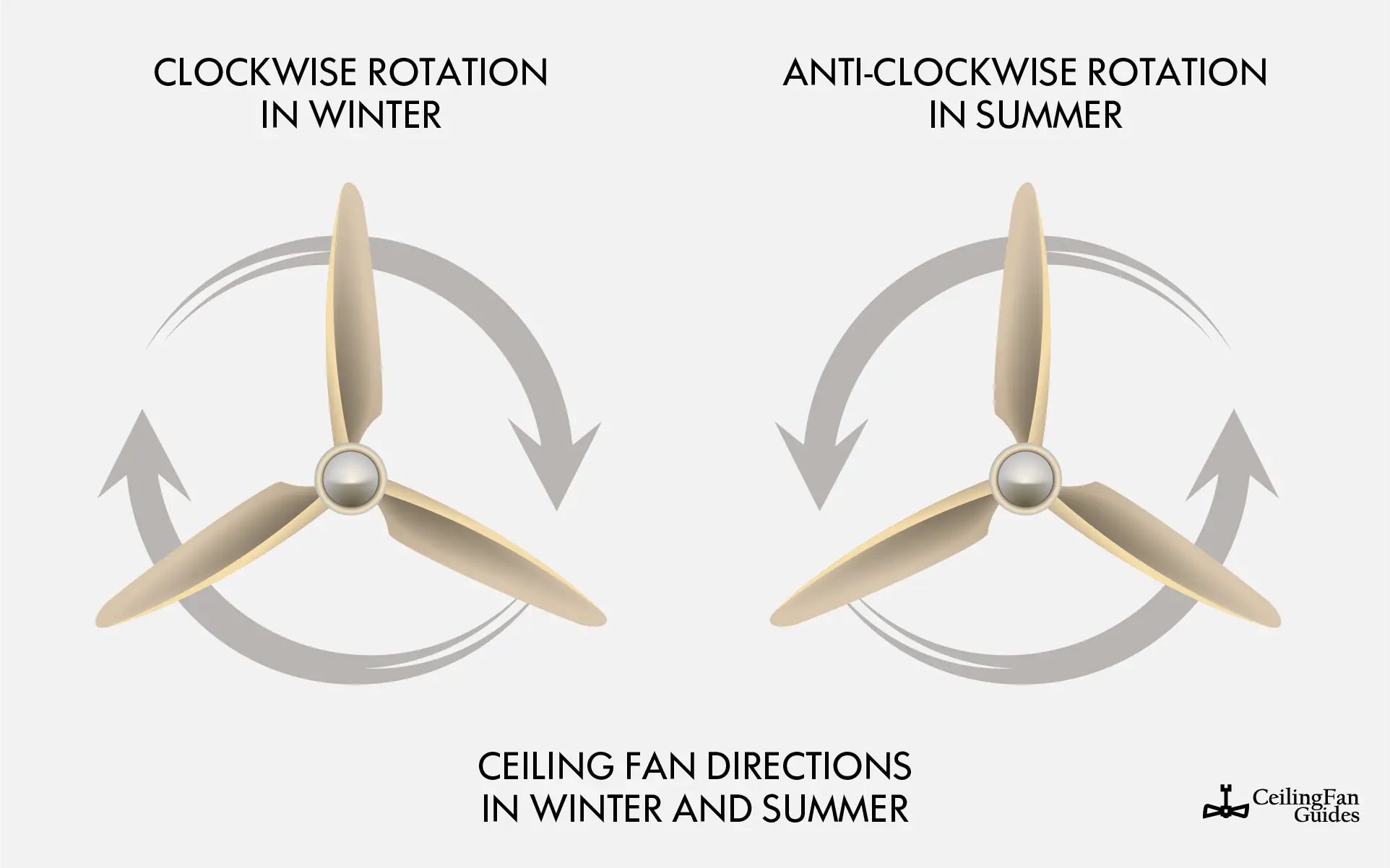 A reversible motor in a garage ceiling fan is a real game-changer. It's like having a secret weapon in your home-improvement arsenal.
You see, during the summer months, you can set the fan to spin in a counter-clockwise direction, which will push cool air down and circulate it throughout the room.
But when the weather starts to cool down and the leaves start falling, you can flip that baby around and set it to spin clockwise.
This will pull the warm air that's risen to the ceiling down and evenly distribute it throughout the room. It's as if you have two fans in one!
Here's more about reversible motors you need to know!
Don't miss out on measuring garage ceiling height!
Don't forget to measure your garage ceiling height when getting a fan!
It may seem like a minor detail, but it could make all the difference when you're trying to install it. After all, those ceilings can be pretty high up there, and you don't want to buy a fan that won't fit your space!
Plus, we can't underestimate the power of a good fan when dealing with cramped spaces.
With the right size, you'll have cool air blowing throughout in no time – so don't miss out on this crucial step.
Fan type supported by your garage location (Damp/wet or Dry)
When selecting a fan to install in your garage, the environment of the space is an important factor to consider.
If it's dry and moisture-free, then you can go with a traditional fan made from materials like wood, metal, or plastic.
However, if your garage is damp or wet due to its location (like if it's attached to a workshop), then you need something suited for wet locations.
Even though standard fans seem harmless, they can be dangerous when exposed to water, so better safe than sorry!
Here's the difference between wet, damp, and dry-rated fans if you want to go deeper!
Check The Package Contents
Lastly, when you're shopping around for a ceiling fan for your garage, don't forget to check out what's inside the package.
Here's an overview of what to expect:
And that's it! If you are interested in learning more before making a purchase, check out our detailed ceiling fan ultimate buying guide!
FAQs
What are the advantages of having a ceiling fan in your garage?
Having a ceiling fan in your garage can help to circulate air and reduce stale odors.
It can also make the space far more comfortable, particularly when you're working in it during hotter months.
Plus, depending on the model you choose, you may be able to get some additional lighting too!
Can indoor ceiling fans be used in the garage?
It depends!
While some indoor fans come with damp/wet ratings and are suitable for use outside, most should only be used indoors due to their lack of protection from moisture and humidity.
If you're not sure, always consult the manufacturer's website or ask an expert for advice.
Will a fan help with humidity in the garage?
Yes! Ceiling fans create airflow, which helps with dehumidification by evaporating water molecules from the atmosphere.
This helps to keep your garage dry and free from mold or mildew buildup.
How many CFM do I need for a garage fan?
This will depend on the size of your garage and whether or not it has windows or doors that open.
Generally speaking, you'll want to look for a fan that provides at least 1000-3000 cubic feet per minute (CFM) of airflow coverage throughout the room so that it reaches all corners effectively.

Also read: Performance and CFM of ceiling fans
The conclusion
While designing this review, we put in countless hours of research to bring you the various options of top selling ceiling fans that are ideal for your garage while keeping the sizes and features in mind.
Our findings will help save you time and effort so you can make an informed decision that's right for your home.
These fans can be the perfect addition to any garage, offering increased air circulation and a comfortable atmosphere when tackling projects or just hanging out with friends.
In the end, it all comes down to personal preference. But, no matter which fan you choose, you can rest easy knowing that you've got one of the best options on the market.
So, go ahead and take the plunge, and let's hope your garage will be as cool as a polar bear's toenails in no time.