Ceiling fans work differently than the typical light fixture, with various controls and settings that affect fan speed and air direction. Their size is important when it comes to annual energy costs. When you choose the right size fan, it won't just keep you cool. A little breeze can go a long way.

Not only will a fan cut down on your air conditioning use, but it can also improve your home's air quality. Keeping your family safe and healthy is important, so choosing the right ceiling fan size should be a top priority whenever you're building or remodeling.
---
---
What Should Be The Ideal Size For A Ceiling Fan?
Bigger isn't always better. If a ceiling fan is too large for your room, you'll overwork your cooling system and pay high electric bills. Conversely, if the room is too small for the fan you've chosen, you may find that you're not getting much circulation at all.

We do not recommend using ventilators with larger blades in smaller rooms as the larger blade will move more air but won't push it that far due to further distance from the source of airflow. If a small room needs additional cooling, it's good to have a few ventilator units, each with smaller blade sweeps like 43 inches.
---
How to Make Room Size Measurements?
Have you ever purchased an oversized ceiling fan? If so, you know how frustrating it is to install a fan that clashes with your room's décor or are too big for the space. To avoid this problem, take the time to measure your room before you shop for a new fan.
You can measure your room size in three quick steps:
Step 1: Have a fine tool for measurement
You can measure the room by hand or use a tape measure to calculate the dimensions of the floor space, which will be listed in feet and inches.
Step 2: Start by standing at the center point
To begin measuring a room, stand on the center point in the room and hold the tape measure taut to create a straight line between your body and one of the walls.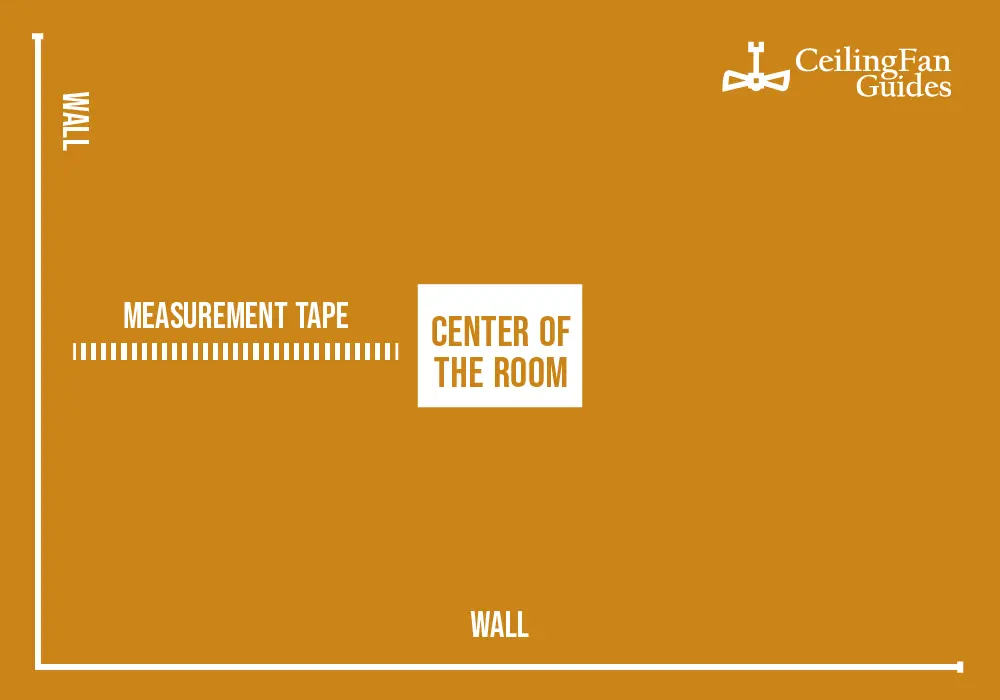 Step 3: Keep accurate extents
Use the measurement formula below to calculate the size of your room: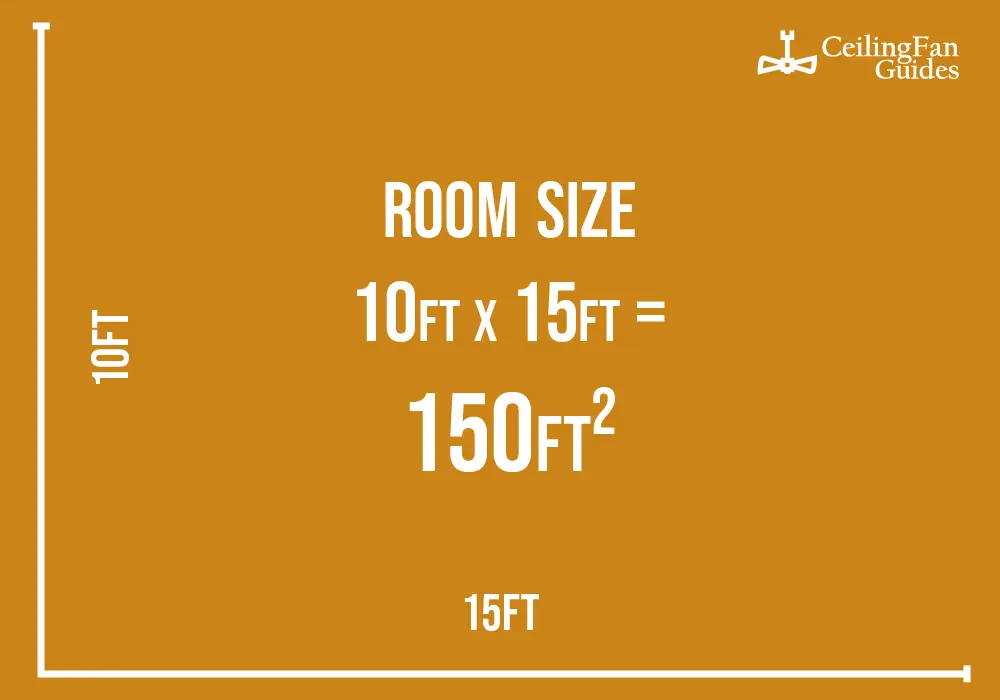 Then slowly move toward the adjacent wall; once you have reached the end of your original straight line, turn 90 degrees toward the adjacent wall and continue moving down the room until you return to your original spot.

You can also get help from the size chart. This should provide you with length and width measurements for your new fan.
| Room Dimension | Suggested Fan Size |
| --- | --- |
| Up to 75 ft2 | 29″ – 36″ |
| 76 – 144 ft2 | 36″ – 42″ |
| 144 -225 ft2 | 44″ |
| 225 – 400 ft2 | 50″ – 54″ |
Suggested fan sizes with respect to room dimensions
---
How to Measure Fan Size with respect to Blade Sweep and Downrod Length?
Choosing the right ceiling fan for your room is not all about appearance, it's also about function. While blade sweep and downrod length are two terms you may have never heard of, they are two important measurements that will help you get the most out of the cooling ability of your new ceiling fan.

Let's explore the difference between blade sweep and downrod length.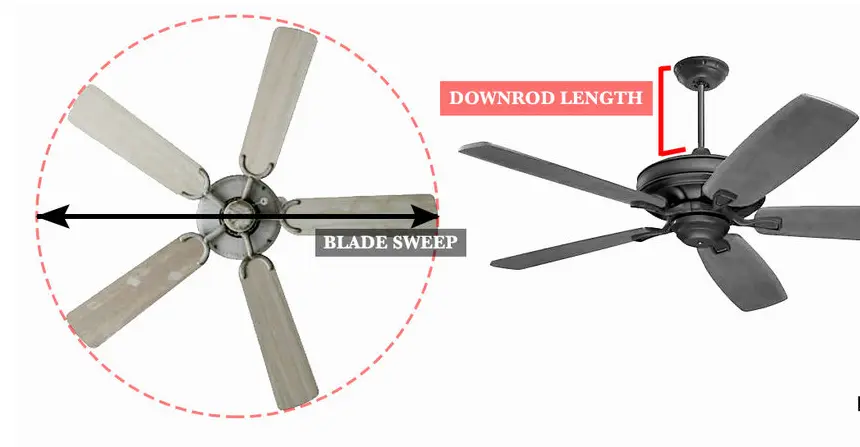 Blade Sweep Length: The blade sweep length of a fan simply refers to its blades' movement across the ceiling. This feature is essential to consider when buying a new fan or an old one.

The measurement is provided in two parts: blade span and blade chord. Here the chord length is the distance between the tips of the fan blades and it's the only measurement that really matters.
Downrod Length: A downrod is used in conjunction with a fan to increase the vertical distance from where the fan will be mounted to where the blades are positioned. This can help when looking to install a fan in a room whose ceiling is too high to allow people to comfortably reach the ceiling.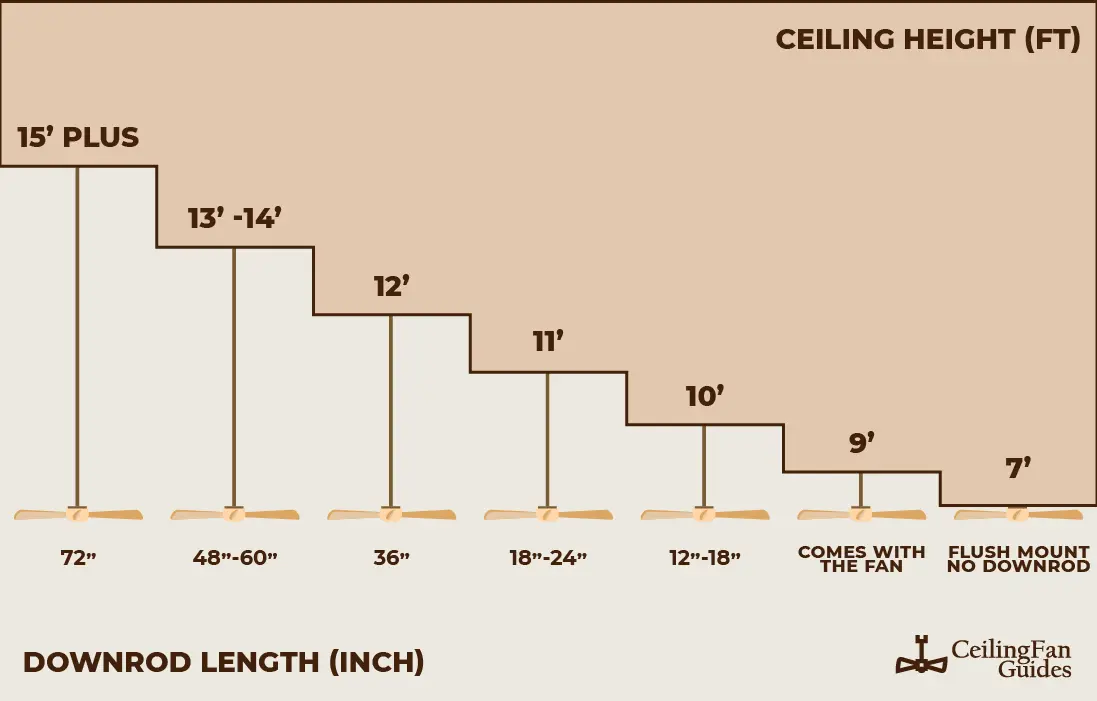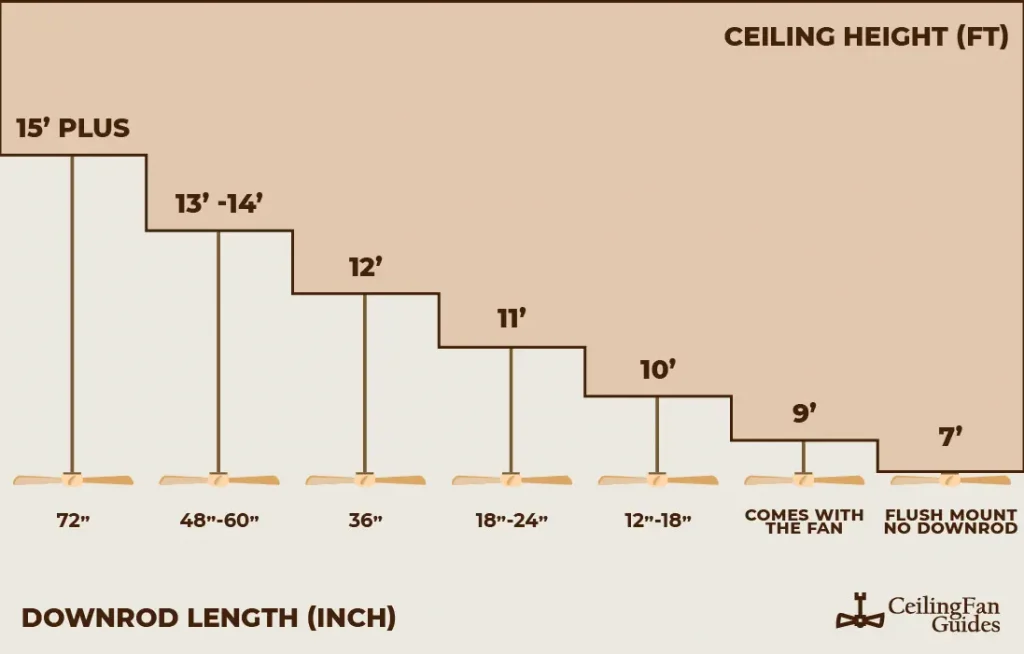 When installing ceiling fans, it's important to choose the right downrod length. The correct length is directly related to the size of the fan.
---
Things to Consider to Buy a Perfect Fan Size:
1. Room Dimensions
Discovering the appropriate size for a room is typically not easy, especially if you are purchasing a fan without having seen it in person. You need to know the dimensions of your room and additionally which type of fan you want.
If you have a large and spacious room, then you can go with a large sized fan. But if you have an average or smaller sized room, then a small or medium sized fan would be perfect for such a setting.
2. Fan Dimensions
Choosing some of the best fans can be a tiring task to do. You need to consider the size of the fan, the place where you want to put it, and what sort of atmosphere you want to make there. If you have a small office or room, the best thing to do is buy mini portable air conditioners, which can be used on hot and humid days.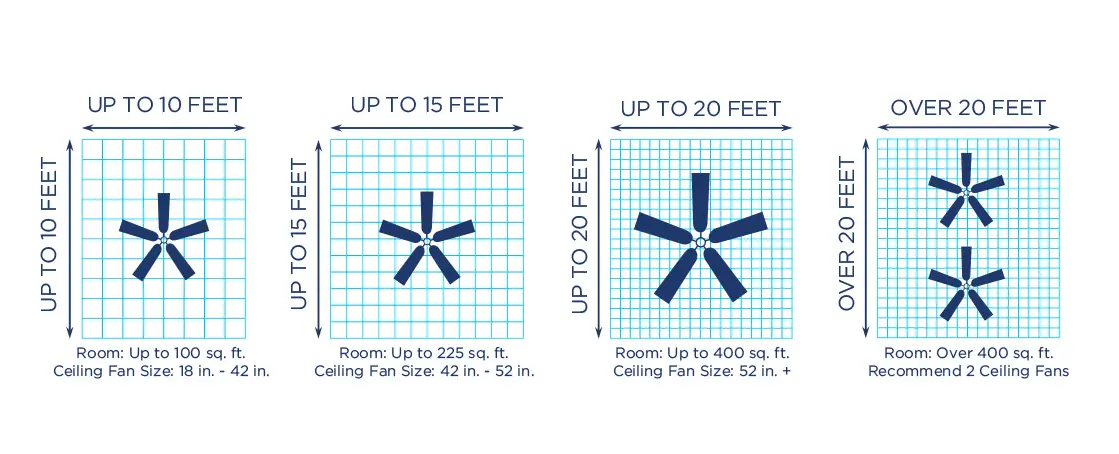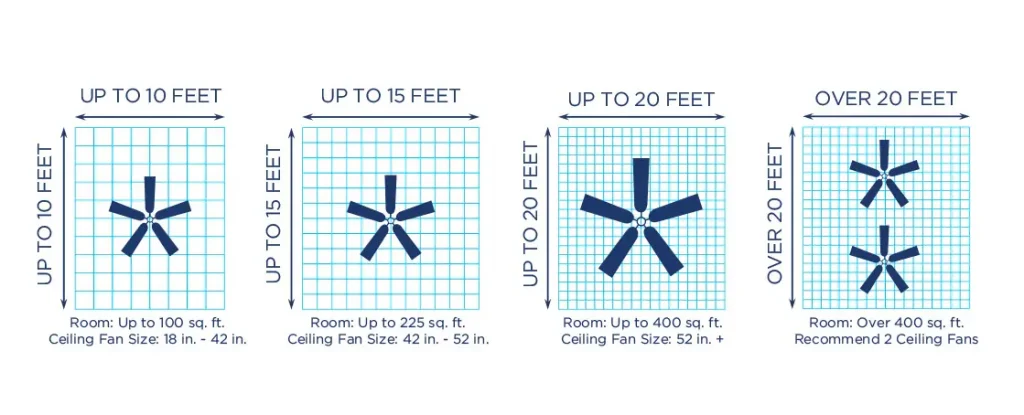 3. Airflow and CFM
Airflow and CFM might sound like a bit of a mouthful, but these two aspects are really important when it comes to choosing a fan.

CFM stands for cubic feet per minute, and this tells you the airpower emitted from the fan. So a good option for that large space would be an 80″ fan with at least 1680 cfm to make sure it does not fail in moving air in and around your home or business. You can find many sizes from every manufacturer but anything in between will not generate enough pressure to move air into and out of your rooms properly.
4. Fan's Blades
If you are planning to buy a fan for indoor use, it's important to consider the size of the fan's blades. Typically, any blade shorter than 5 inches should not be used in a room where quiet performance is needed. Longer blades, which refer to the distance from top to bottom of the fan plus the thickness of the rotary portion (base and motor), can be more difficult to balance.
5. Blade Span
The size of your fan becomes very important when you decide to buy one. Today, fans come in various sizes and shapes. But did you know that most ceiling fan sizes are measured by the blade span? The blade span is the distance from tip to tip of all the fan blades. So, before deciding which blades will be used with your unit, you should measure your room's height and width first. Then, make use of this information when choosing your fan units.
---
Looking To Buy A Ceiling Fan? Read Our Guide:

What size ceiling fan should I buy for a small bedroom?
Typically, fan manufacturers will recommend a 40-48 inch (or 2 foot) blade span when used in smaller rooms such as bedrooms, bathrooms, and home offices.

However, if your room is 9′ x 9′, you should fit a suitable, quiet fan without any issues. However, if the ceilings are significantly higher than nine feet, it is worth considering a larger unit to really create a cooling breeze in the room.
What size ceiling fan is ideal for a 10×10 room?
A small 10 x 10 room could easily accommodate a 48 to 72 inch fan. The ceiling height will also play a factor in determining the proper fan size for your room. For example, if you have an 8 foot ceiling then a 72 inch fan may be overkill.
What Is The Ideal Ceiling Fan Size For Outdoor Patio?
While there isn't a specific answer, a general rule of thumb is the more air circulation in cubic feet per minute (CFM), the better. Fans with lower CFMs are best used in smaller patios limited to 3,000 square feet and less.

On the other hand, if you have a large area over 5,000 square feet, you'll want to get the largest ceiling fan that is still comfortable for operating. So long as your eye can see across your patio without having to stop and turn around, it doesn't matter how big your fan is.
Read: Important Things To Know Before Buying An Outdoor Ceiling Fan
---
Other Crucial Considerations Before Purchasing a Ceiling Fan
Here are a couple of important things you must check in a ceiling fan before investing in it:
---
Conclusion
The size of your fan is important. So as you shop for fans, keep the authentic size guide in mind. If you're considering buying a new fan but not sure how big to go, match the blade diameter to the room's square footage.

It all comes down to measuring your room and choosing the ideal ceiling fan size, given your space's dimensions.

The best way to determine what size will work best for you is to consider your room's square footage, as well as the fan blade span. Doing so will help you make the right decision regarding fan size and whether you need a flush mount or a fully extended downrod, which may impact the overall airflow of your room.
---