There are several companies that produce ceiling fans, such as Hunter, Emerson, and Westinghouse. As a result, there are many different styles of ceiling fans available on the market today.
However, if you want to ensure that your ceiling fan will last for years to come then it's essential that you buy one from a reputable manufacturer.
Now the question is if you love buying products made in the USA, then do made in USA ceiling fans exist?
To help you find a perfect answer, we have gathered suitable information from the market. So you better understand where you can find USA-made ceiling fans, if they exist, and who the main manufacturers are!
---
---
Are There Any Ceiling Fans Made In The USA?
The short answer is: yes!
There are a few brands that manufacture their fans in the US. But remember: not all ceiling fans are created equal.
At the same time, we can say, "It Depends!"
While it's true that Matthews, Marley, and other brands have some of their ceiling fans assembled in the US and contain some parts that are made in the US, others have a different story.
For example, Matthews ceiling fans are assembled in South Carolina, but they also have some parts made overseas in Asia and Mexico (or out of the USA). This means that the majority of their ceiling fans aren't actually made in the US!
This can be confusing for customers who want to know where these products are made. It's important to know if you're buying a product from a brand you trust—and it's especially important for those who care about supporting American jobs by buying American products!
So if you're not sure about your fan's origins, it's always best to check with the manufacturer directly before making any purchase decisions.
What Ceiling Fans Are Made In United States?
In the United States, ceiling fans are made by a variety of manufacturers.
Some manufacturers make fans in the United States, while others import them from abroad and then further assemble them here.
Of those that do make their fans in the U.S., some use local materials in their construction and manufacturing processes (e.g., U.S.-made blades), while others use imported components (e.g., bearings). That are then assembled with locally-made parts on site by workers who receive training specific to fan assembly in order to ensure proper quality control standards are met.
Ceiling Fans Brands That Originate From USA
Hunter Ceiling Fans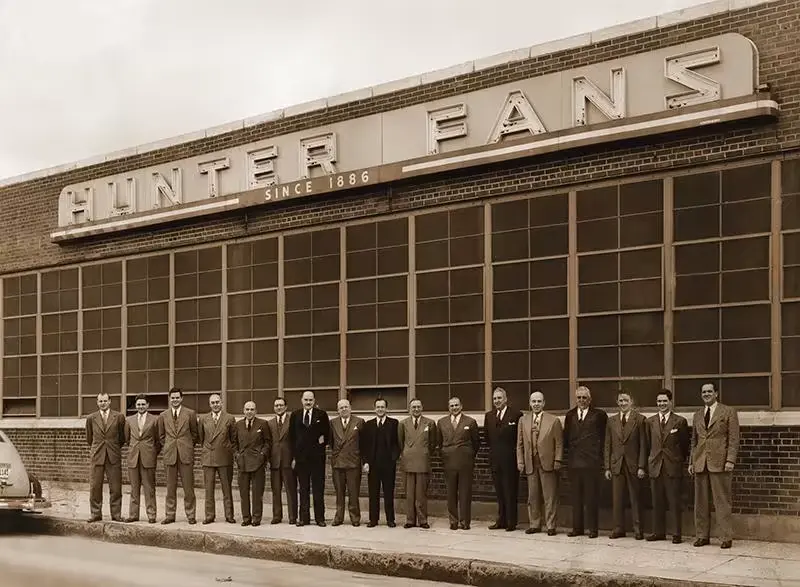 Hunter ceiling fans used to be made in the USA, but now they have moved their production unit to China. Similarly, Casablanca and others have moved their production overseas.
These days, it's common for many popular ceiling fans to be made in other countries.
It seems like every year, there's a new story about how a well-known ceiling fan brand has started using imported parts instead of American-made ones. And while this trend may seem alarming at first glance, it's actually a good thing for ceiling fans—and even for the economy as a whole!
While it's true that importing materials from other countries can sometimes mean lower prices for consumers, it also means higher quality and more innovation for brands like Hunter. In fact, Hunter used to be made entirely in the United States until about 10 years ago (in 2002) when they decided to move their production overseas.
By doing so, they were able to save money on shipping costs and allow themselves more flexibility with their product designs (they could make sure everything fit together perfectly).
This is just one example of how importing components from other countries can help companies save money while maintaining high standards of quality.
Monte Carlo Fans
Monte Carlo Fans' products are available throughout the US and Canada, while they also distribute their products worldwide.
The company was founded in 1996 and has grown to be a leader in the industry. They have over 100 years of experience and continue to grow every year. They manufacture their ceiling fans entirely in China, with all parts shipped together from one factory to another so that they can be assembled quickly.
The brand offers 22 different models of ceiling fans, which include wall mount and flush mount models, as well as pedestal fans. So anyone who wants to have a fan from the USA brand can consider Monte Carlo on the top of their list than other brands!
Craftmade
The reason that Craftmade's ceiling fans are so popular is because they are made out of wood and have a high-quality finish.
The company has been making fans for over 30 years, and it began by selling them to local installers. Now, Craftmade has its own retail stores and sells directly to consumers. It makes all of its ceiling fan parts overseas in China, but it also uses local vendors to source its materials.
In addition, Craftmade uses American-made materials and attaches them to their products using American machinery, which means that you are getting a product that was made in America by Americans.
Honeywell
Honeywell is a company that specializes in manufacturing ceiling fans and other home appliances. It is based in Illinois, is certified as carbon neutral, and manufactures its ceiling fans in China.
The company was founded by George R. Honeywell, who conceived the image of the company to the world in 1886. The company specializes in providing cost-effective solutions for residential and commercial applications. Its products include air conditioning units, heating units, kitchen appliances, and ventilation systems.
Where Are Kichler Fans Made?
The company's fixtures are manufactured with reclaimed wood and up-cycled wood from the United States. This allows them to keep costs low but also ensure that their products are built to last.
In addition, Kichler fixtures are made from subassemblies, which means that the manufacturing process is more efficient than it would be if the whole fixture were made in one piece. This allows for more efficient use of resources and less waste during production.
Which Ceiling Fan Parts are Important to Check?
In spite of their design for the American market, Minka Aire ceiling fans are currently not made in the country. Hong Kong and other parts of China also produce them, but Taiwan is the largest producer.
The company says that it has plans to expand production to the United States in the future, but for now, you'll have to import your Minka Aire ceiling fan from China if you want one.
Variety of features
Minka Aire ceiling fans come with a variety of features that make them attractive to buyers, including:
Where Are Other Ceiling Fan Manufacturing Countries?
Ceiling fans are manufactured in many different places, but the majority are made in China. In fact, China is the world's largest producer of fans, which makes up a significant proportion of global production volume.
Many other countries manufacture fans as well, but they account for a much smaller percentage of production than China does.
For example, India is another big player in fan manufacturing. They produce around 20% of global output—but they only make about one-tenth as many fans as China does.
In other countries, however, Ceiling Fans are made with more elaborate designs or use materials that cannot be found in the United States. These materials can include brass, silver, or aluminum instead of plastic or wood.
Some countries even use ceramic or marble instead of plastic materials!
Looking To Buy A Ceiling Fan? Read Our Ultimate Buyers Guide:
Want to buy a ceiling fan? Here's your complete buying guide!
Also Read Our Ceiling Fan Reviews:
Conclusion
While there are no ceiling fans being manufactured in the United States, some parts of the final product are being made overseas. These parts include motors and other electrical components. However, the majority of the production is done in China.
The reason for this is because China has a lower cost of labor than other countries. This allows for manufacturers to produce more ceiling fans at a lower price point than would be possible if they were made in America.