Ceiling fans in the kitchen are a great way to keep yourself cool and comfortable during hot summer days. If you're going to be spending a lot of time cooking or sitting at the table, then you should have a ceiling fan installed.
This article will explain why you should have a ceiling fan installed in your kitchen or dining area, as well as how it can benefit you and your family.
---
---
What does a ceiling fan do in the kitchen?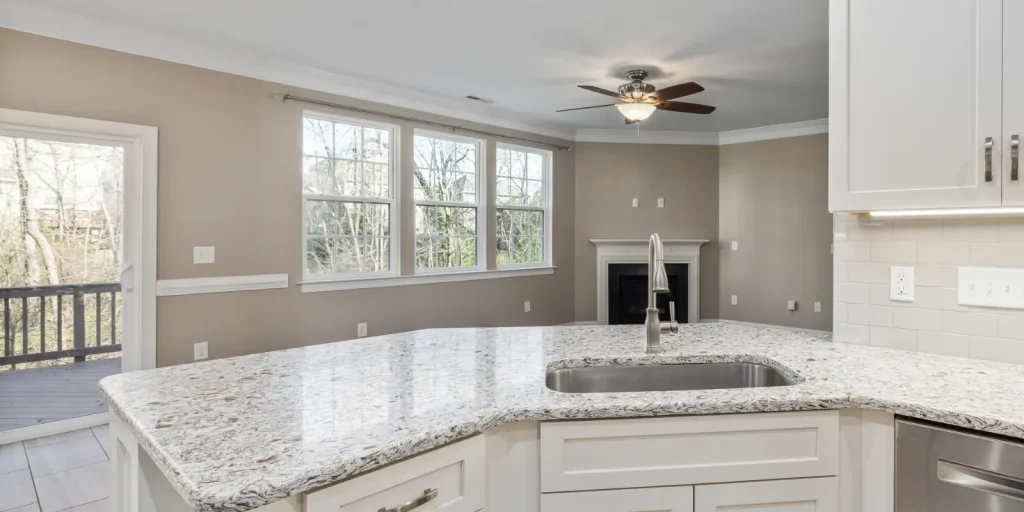 1. Enhances air circulation in kitchen
In the kitchen, ceiling fans are used to increase air circulation. They do this by circulating air throughout your home and preventing heat build-up in some areas of the house (like kitchens). This will also prevent mold from growing on surfaces, which can cause allergies and other health problems for you and your family members.
2. Reduces chances of mold growth in the kitchen
Another benefit of using an electric ceiling fan in your kitchen is that it reduces the chances of mold growth.

As the air circulation is improved, there's less moisture from condensation dripping onto the walls and flooring.

This means that you won't have to worry about mold growing on your countertops or cabinets, which can be dangerous if not cleaned regularly (and even more so if you're cooking).
3. Improve overall health
Ceiling fans help to keep the air in your home circulating, which helps to keep the air fresh and clean.

They also reduce allergens such as dust mites, pet dander and pollen by pulling them out of the room with their blades.

As a result of these benefits, you will feel much better when using a ceiling fan in your kitchen or living room because it provides an instant sense of relief from stress caused by normal indoor activities like cooking or cleaning up after dinner!
4. Aesthetic Value
A ceiling fan can be used to create a unique look in your kitchen.

You can use it to match the theme of your kitchen and create an aesthetic value that matches with other appliances or decorations.

For example, if you have a white kitchen with light blue accents, then installing a ceiling fan in this area will add color to the space while also matching with other elements in the room like cabinets or countertops.
5. Energy Savings
The typical American home uses 3,000-kilowatt hours (kWh) of electricity each month. If you have a ceiling fan installed in your kitchen, it will help reduce this energy use by up to 50%.

The average cost for installing a new air conditioning unit is about $4,500. That's why installing an energy-efficient ceiling fan can save you thousands of dollars over the lifetime of your system!
Read: Best Kitchen Ceiling Fans [Reviews & Buying Guide]
Also Read Our Other Ceiling Fan Reviews: Best Garage Ceiling Fans
Important factors you need to know before installing ceiling fan in the kitchen:
1. Make sure your ceiling fan is UL rated for wet or damp location.
If you're installing a ceiling fan in the kitchen, it is essential that you use one that is UL (Underwriters' Laboratories) rated for wet locations. This means that the unit will not be damaged by water, as well as other potentially hazardous elements found in kitchens.
2. Choose the right size of fan
The size of a fan will depend on the size and amount of ceiling lights that are used in the room. The larger the room, the larger your ceiling fan should be. The number of lights also has an impact on how big you need a fan to be.

For example, if you have four lights in your kitchen and want to install a 10-inch ceiling fan, then you would need a 10-inch ceiling fan instead of one that is 8 inches or 9 inches. To get a better idea, read about how to measure a ceiling fan.
3. Choose the right style of ceiling fan (modern, contemporary, traditional)
A ceiling fan is a great choice for any kitchen, but you'll want to make sure you choose the right one for your style.

Modern kitchens tend to have lots of glass in the walls and ceilings, which means that their fans should be relatively small and unobtrusive. Traditional kitchens need a fan that can be used as an overhead light in addition to ventilating the room.

If you're looking for a contemporary look, consider a modern-style ceiling fan with exposed blades or a sleek black finish. If your kitchen has more traditional features, try something with a more traditional design—a brass finish or brushed nickel will work well in most cases.
4. Having a light kit to accompany the ceiling fan for the kitchen.
This is a must-have feature if you have a large area that you want to light up. A ceiling fan can be installed in any place, but it's important to have enough space to accommodate the light kit.
5. Having remote control to control the speed and lighting
Having a remote control to control the speed and lighting of your ceiling fan in the kitchen is an excellent idea. You can adjust the speed so that it is suitable for all members of the family, and you can also use it to control the lighting in your kitchen.

The remote control will allow you to change the speed of the fan and turn it off or on whenever you want. This is very convenient because you can use it anywhere in your house, even if you are not near a wall switch or outlet.
4 Interesting Kitchen Ceiling Fan Ideas
We've picked out a few ideas for kitchen ceiling fans for you.
Lighted chandelier ceiling fans are a popular choice for modern kitchens
If you want something that will add style and elegance to your kitchen's décor, then you should consider purchasing a chandelier ceiling fan. A chandelier is not just any old light fixture—it has its own unique look that will be sure to impress everyone who sees it!

You can choose between several different styles when looking for this kind of fixture; some models feature LED lights while others have traditional Edison bulbs instead.
An elegant copper ceiling fan with light for a contemporary kitchen
The copper ceiling fan is a great option for a kitchen. It can be found in many sizes and styles, so you'll have plenty of options to choose from when deciding which one will work best with your kitchen design.

These fans are available in a variety of finishes, including brushed nickel, chrome and satin nickel. They're also energy efficient and easy to install—all you need is an electrical box with two screws on the back (or four screws if you're using an optional light kit).
Luxurious kitchens need a crystal ceiling fan
If you're looking for a simple, yet elegant addition to your kitchen, then a crystal ceiling fan is the perfect choice. The light from these fans can be used in several ways—they can be placed over counters or tables to create an airy atmosphere and provide extra light when you need it. They can also be hung from the ceiling on their own so that you don't have any unsightly wires hanging down from above.
Space-saving, 4-blade low-profile ceiling fan for small kitchens
This is a perfect ceiling fan for any kitchen. It measures 56 inches, which is just enough space to fit in the room you have, but not too small that it will look out of place. The white color looks great with any other decor or furniture in your home and adds some color to an otherwise bland space.
---
People Also Want to Know!
How often should I clean a kitsch ceiling fan?
You should clean your kitsch ceiling fan regularly, but it depends on how often you use it. You don't want to overdo it, so if you only use the fan a few times a year, you can probably go without cleaning it. However, if you use your fan all the time, then every few weeks should be fine for regular maintenance.
You can also clean your kitsch ceiling fan with a dusting cloth or mop, but make sure that you use warm water and mild soap.
How do kitchen ceiling extractor fans work?
Kitchen ceiling extractor fans work by using the same principles that apply to any other fan. The fan circulates air in an upward direction, which means that it will move heat out of your kitchen.
The most important thing to keep in mind about kitchen ceiling extractor fans is that they are not designed for use in bathrooms, so you should never install them in your bathroom.
---
Conclusion
Ceiling fans in the kitchen can help reduce noise levels in your home. Fans are also very energy efficient, which means they're a great choice if you're looking to save money on your utility bills.

If you have a lot of people working in your kitchen, then it's important that you're able to provide them with enough airflow so that they don't get too hot while they're working.

Ceiling fans help with this by making sure everyone has plenty of air circulation throughout their workspace so that no one feels like they're being suffocated or has trouble breathing because they're too close together or whatever else might happen if there isn't enough ventilation around them.
---